Easy peasy RSVP
Setup and ready to go on your site!
When your OurBigDayInfo Wedding Site goes live, we include an RSVP form on your wedding site which is setup and ready for your guests to use. This means you don't have to spend any time setting things up - we know you have plenty of other tasks to do! With our Premium plan, you can also add and remove options on the RSVP form and customize however you wish. You can ask your guests anything you wish to know to help your wedding day run smoothly. Our Team at OurBigDayInfo works closely with all couples to ensure that their RSVP form gathers the info they wish to know!
Add Maps & Directions
No guests will get lost on your big day!
With so many guests from so many places coming to your wedding, not everyone will be familiar with your chosen location for your ceremony and reception. Including maps and directions on your wedding website provides convenience to your guests and helps them plan their travel. Having Google Maps for your ceremony and reception location is the perfect way to ensure that not one guest gets lost on your big day! And to make things easy, adding a Google Map to your wedding website is one simple click - 'ON' - it's that simple!
Would you like to order? (Premium)
Receive guest meal choices when they RSVP
Ensure your reception meal runs smooth by giving your venue notice on which meals your guests would like at your meal. You can collect your guest's meal choice directly from your RSVP form!
Personal .com Domain!
FREE .com Domain with Plus and Premium Plans
A personal .com domain is the icing on the cake for your wedding website. A personal .com address looks super neat on your wedding or save the dates invites, and makes your site address very easy for your guests (and you) to remember. They are also very unique and personal to you as a couple! How does it work? If your names are Laura and Ronan for example, your personal domain could be www.lauraandronan.com - we are now delighted to offer couples who chose the 'Plus' plan for their wedding website, a FREE .com domain if your wedding date falls within 1 year of your site creation. Read how to claim your FREE .com on our Offers page.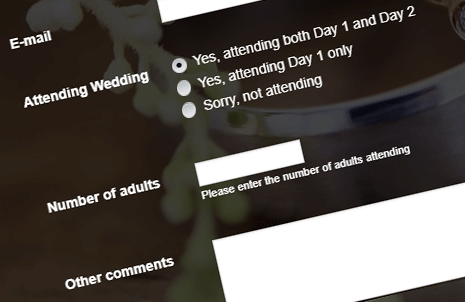 RSVP For Multi Events
Allow Guests To RSVP For Multiple Events
Some weddings are made up of multiple events, and you may wish to ask your guests which parts they are attending. Events (aside from the actual wedding) may include a rehersal dinner, a BBQ the next day, or asking guests if they are attending day 1 or both day 2 and day 1. All this really depends on you the couple and how you plan your wedding. We work with our couples to help them decide how best to break down their events and word it on their online RSVP. Chat with us using our 'Live Chat' button on this page if you have any questions on RSVP muli-events for your wedding.
Let the countdown begin!
Track the days, hours and minutes to your big day!
Build excitement and remind guests how quickly your wedding is approaching by using our countdown timer feature on your wedding website. A countdown timer with the date and time of your big day, comes with your wedding websites as standard. You also have the option to turn this feature off if you wish.
Mobile & tablet friendly!
Your wedding site in your pocket
Your wedding website will be mobile and tablet friendly - meaning that your guests will be able to view your beautiful wedding site on their computer, tablet, or mobile phone. This is super helpful for wedding guests who are travelling to your reception or venue, and just need to find out from your 'Directions' section how to get there via their mobile on the big day itself!
Guest Request A Song! (Premium)
Let your guests hear their favourite song
Everyone loves to see their dance floor full of happy guests on their wedding day. If there is one guaranteed way to make that happen, it's by allowing your wedding guests to request a song for your DJ (or band) to play. Our Request A Song feature is guaranteed to make your guests feel part of your big day. And it's easy for your guest to use. Simply pick the artist and the song and press the "Play My Song" button. You will be notified via email each time a guest requests a song. A report of all the songs can also be generated so you can print and pass to your DJ in advance of your reception! Guest Request A Song is part of our Plus and Premium plans.
Collect donations (Premium)
PayPal Account Required
Wondering how to ask for money for a wedding gift? Well you might just love this feature. Collect donations as gifts from your guests directly from your OurBigDayInfo wedding site! All you need to use this feature is a PayPal email address. It's that simple. You can collect donations as contributions to your honeymoon or even just collect donations as wedding gifts.
RSVP reports (Premium)
Know exactly who is attending!
With our RSVP Reports, you will know exactly who is (and who isn't) attending your big day. With the RSVP Report, you can search for your guests by name to see if they are attending, what their meal preferences are and lots more!
CREATE YOUR SITE: